What will you get after completing the course:
Knowledge of cosmetologists in the field of aesthetic and hardware cosmetology with over 10 years of experience,
Certificate of completion of the refresher course,
Certificate of retraining in the cosmetic field (with it you can get a certificate of entrepreneurial activity, you can start working right after the course, no guarantor / surety required!)
The certificate is valid throughout the EU,
Certificate from Exclusive Beauty Clinic,
Certificate for bonus courses: Dermapen, Full body waxing with sugar paste, Brazilian depilation,
Gifts with the course: 3 OxiSecret depilation sugar pastes worth 1770,- CZK,
OxiSecret depilation guide worth 990,- CZK as a gift,
Discounts on beauty products and beauty machines,
Consultation of specialists after the course,
Adding to a private chat for course graduates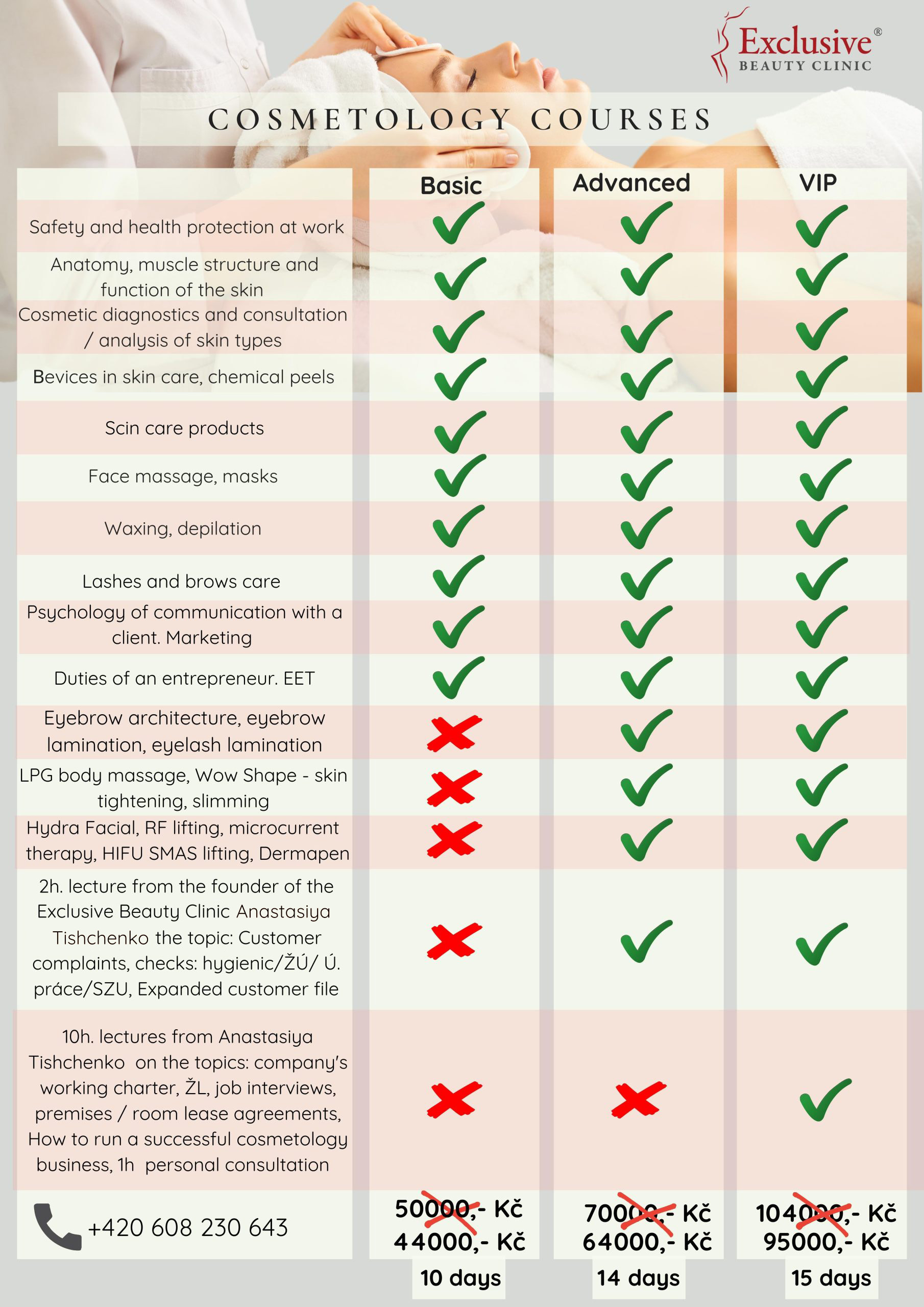 Basic cosmetic course
Introduction - familiarization with the program
Safety and health protection at work, labor protection, fire safety
Hygienic and epidemiological requirements for operation
Anatomy, muscle structure and function of the skin / skin diseases / allergies
Basic Skin Care Products / Product Comparison Recommendations
Theory: devices in skin care, chemical peels
Cosmetic diagnostics and consultation / analysis of skin types
Ways to remove unwanted hair
Facials
Manual skin cleaning / Ultrasonic / Darsonvalization
Care for problem and oily skin / acne
Dry and dehydrated skin
Skin with age spots
Care for sensitive skin
Anti-aging treatments
Correction and dying of eyebrows
Classic cosmetic massage / micromassage of the area around the eyes
Application of masks: cream / alginate / enzymatic
Wax depilation
Depilation with OxiSecret sugar paste
Brazilian waxing with OxiSecret sugar paste
Answers on questions
Psychology of communication with a client / duties of an entrepreneur, EET
Price of the Basic course: 45000, - CZK
Price until 31.8.2021: 39000, - CZK
Advanced cosmetic course
Eyebrow architecture (henna dying)
Eyebrow lamination
Eyelash lamination
Detailed analysis of chemical peels + practice
RF-lifting - radiofrequency face lifting
Microcurrent therapy - skin rejuvenation and lifting
LPG body massage - LPG Cellu M6 non-invasive liposuction / body shaping
Wow Shape - RF energy, vacuum, infrared light and roller massage / skin tightening / slimming
HIFU SMAS lifting - non-surgical skin lifting
Dermapen / microneedle care
2-hour lecture from the founder of the Exclusive Beauty Clinic, a cosmetologist with 8 years of experience, an expert in permanent makeup, Anastasiya Tishchenko on the topic:
Customer complaints
What to look for when carrying out hygienic checks / živnostenský úřad / Inspektorát práce / SZU
Expanded customer file + sample files
Price of the advanced course: 65000,- CZK
Price until 31.8.2021: 59000, - CZK
Cost of the advanced course without the basic course program: 50000,- CZK
VIP cosmetic course
10 hours of lectures from the founder of the Exclusive Beauty Clinic, the cosmetologist with 8 years of experience, the expert in permanent makeup, Anastasiya Tishchenko + materials on the topics:
Commissioning and equipment of the placement, how to start
Detailed analysis of the company's working charter / example
How to get a certificate of entrepreneurial activity in the field of cosmetology
How to conduct a job interview
The right choice of administrator
The right choice of beauticians
Staff dress code
Employment in various ways
The topic of the conditions of remuneration of personnel for different types of employment
Accounting / EET
Premises / room lease agreements - what to look for
Labor contracts
Etiquette / Marketing
h personal consultation with Anastasiya
How to run a successful cosmetology business
Price of the VIP course: 99000,- CZK
Price until 31.8.2021: 90000,- CZK
Price for a 10-hour lecture from Anastasiya Tishchenko: 40000,- CZK
In order to reserve a place at any of these courses, a non-refundable deposit of 50% of the course cost must be made to a bank account:
Bank: UniCredit bank
Account number: 1439848002/2700
Variable symbol: your phone number.
Account name: Luxury Beauty sro
IBAN: CZ38 2700 0000 0014 3984 8002
BIC (SWIFT): BACXCZPP
Account holder: Luxury Beauty s.r.o.
You can make an additional payment at the course location or to the indicated bank account.
Make up your mind and join professionals from all over the world. You will learn what is in great demand now!
Gain the knowledge that will guide you to satisfied customers and a quick start in your career.