Exclusive Beauty Clinic - MODELING HAIR WITH MICROPIGMENATION
Trichopigmentation Exclusive Beauty Clinic will help to hide defects caused by alopecia - hair loss, the appearance of bald spots or loss of former density. This pigmentation of the head looks as natural as possible. It is compatible with the passage of a course of treatment from the trichologist. This procedure is a safe alternative to hair transplantation. It has a number of advantages: no stitches, scarring and complete absence of the rehabilitation period (left the cabinet and no one will notice anything). And most importantly - affordable cost in comparison with the operation of hair transplantation.
Scalp Micropigmentation Exclusive Beauty Clinic simulates very short hair grown on the newly shaved scalp.
Hair tattooing method is suitable for all skin types and hair. This treatment recreates the natural line of hair follicles gently blending with the existing hair.
The treatment is suitable not only for men but also for women with thinning hair. With this technique it is possible to give hair significant visual density.
With this method help you can mask any defects on the scalp: scars, skin pigmentation, burn marks, etc.
---
Exclusive Beauty Clinic PROCEDURE
Before the procedure our specialist will do a consultation during which will analyze your natural pigmentation of hair to create the perfect pigment shade especially for you.
The process of micropigmentation is similar to the procedure of permanent make-up or tattooing. However, during this procedure, special microneedles are used, which put the pigment to a shallower depth. Simulated hairs perfectly retain their shape and natural appearance.
Over time, the pigment pales, the stability of the effect depends on the individual characteristics of the skin.
For optimal results, up to three procedures are sometimes required.
However, the result is after the first procedure.
3 weeks after the procedure, correction is recommended.
Duration: 1-3 hours The period of healing: scab forming within 2-4 days, peeling process - 7 days Complete healing in 4 weeks
After the procedure:
Do not shower 12 hours after the procedure Do not sunbathe minimum 14 days after the procedure Avoid sauna, steam bath, open water or swimming pool, etc. 14 days after the procedure Do not scratch the skin during the peeling process Apply special cream twice a day for 10 days
---
HOW MUCH IT COSTS
Initial consultation with a specialist, including cosmetic exam and recommendations on the plan and the number of required procedures, as well as on the preliminary cost – FREE
Total cost of treatment depends on the amount and density of work. For a preliminary cost count we use the scale "Hamilton - Norwood" as a guide. * Scale "Hamilton - Norwood" - is the classification of baldness progression from 1 to 12. See photo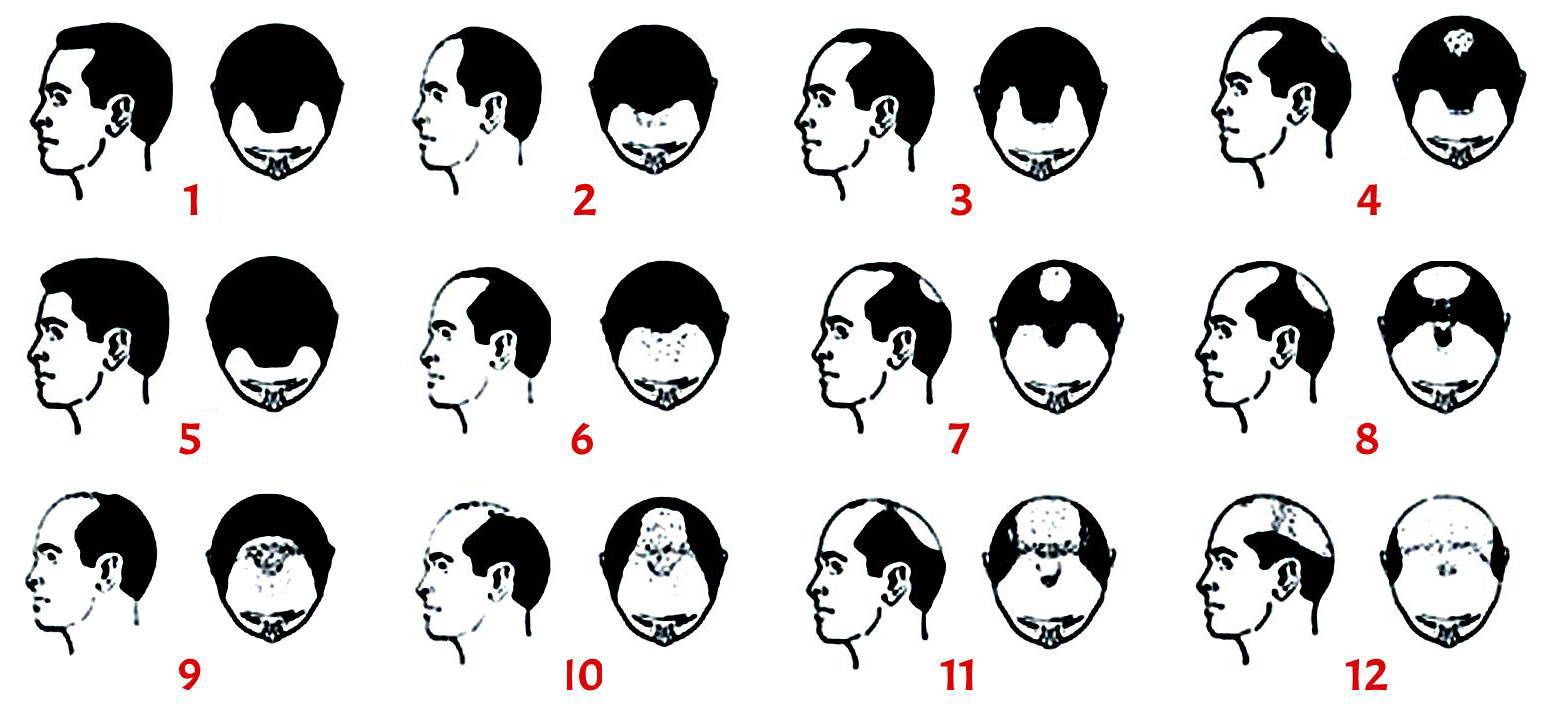 | | | |
| --- | --- | --- |
|   | Skin scar | from 5000,- Kč |
|   | Correction | from 2000,- Kč |
| 1. | Thickening of the corners | 6500,- Kč |
|   | Correction | 2600,- Kč |
| 2. | Thickening of the corners + part of head | 8000,- Kč |
|   | Correction | 3200,- Kč |
| 3. | Thickening of the corners + part of head | 8000,- Kč |
|   | Correction | 3200,- Kč |
| 4. | Corners + part of the head + top of the head + back of the head | 15000,- Kč |
|   | Correction | 6000,- Kč |
| 5. | Hair thickening | 15000,- Kč |
|   | Correction | 6000,- Kč |
| 6. | Tightening the head part deeper into the front and sleep area | 18000,- Kč |
|   | Correction | 7200,- Kč |
| 7. | Tightening of the head part deeper into the front and the sleeping area + top of the head + back of the head | 20000,- Kč |
|   | Correction | 8000,- Kč |
| 8. | Tightening of the head part deeper into the front and the sleeping area + top of the head + back of the head | 29000,- Kč |
|   | Correction | 11600,- Kč |
| 9. | Total front central area | 29000,- Kč |
|   | Correction | 11600,- Kč |
| 10. | Total front central area + top of the head | 35000,- Kč |
|   | Correction | 14000,- Kč |
| 11. | Total front central area + back of the head | 39000,- Kč |
|   | Correction | 15600,- Kč |
| 12. | Nearly the whole head | 45000,- Kč |
|   | Correction | 18000,- Kč |
| 13. | Whole head | 50000,- Kč |
|   | Correction | 20000,- Kč |
WHAT WE OFFER AND GUARANTEE FOR OUR CLIENTS:
High level cosmetology professionals
Knowledge and practical experience in hair modeling using micropigmentation
The successful results of our work (our happy customers)
High-end equipment required for these procedures
Result after the first treatment
12 months warranty on the pigment intensity
The pigment does not change its color and does not blur
The simulated hairs keep their initial shape and natural look
Individual approach to each client
Confidentiality of all client data
A flexible system of discounts depending on the amount of work
On-the-spot professional communication at all stages of treatment
Ability to listen to the customer and take into account your comments to further improve our service quality
You can make an appointment for your free consultation here
Phone: +420 608230633
PLEASE, TAKE A LOOK AT OUR WORK: BEFORE AND AFTER PHOTOS