The action of this complex is multifunctional, since it regulates the work of the sebaceous glands, has a cleansing, bactericidal and soothing effect. Promotes deep cleansing of clogged pores, thereby relieving blackheads.
Cleans the skin
Get rid of blackheads
Eliminates acne
Soothes the skin
Reduces inflammation
Indications:
Acne
Post-acne
Scars
Hyperkeratosis
Clogged skin
Smoker's skin
Contraindications:
Individual intolerance to the components
Dry or very sensitive skin
Simultaneous intake of vitamin A (retinol) inside
Pregnancy
Lactation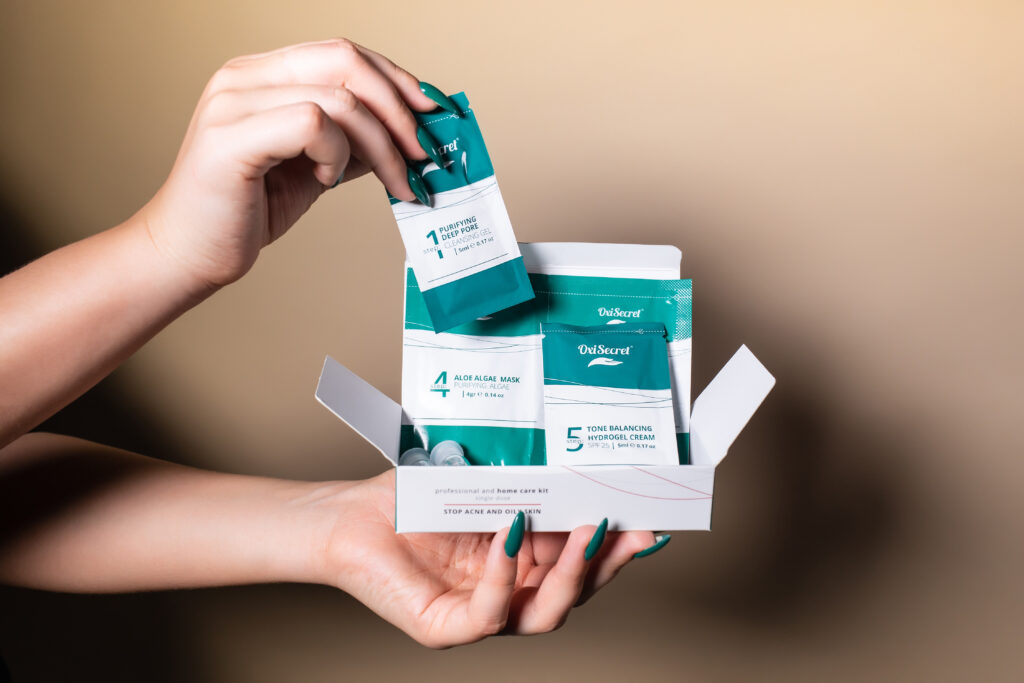 Procedure:
OxiSecret Cleansing Gel with Coconut Oil Extract. Thoroughly removes impurities and regulates the secretion of the sebaceous glands. Suitable even for very sensitive skin.
OxiSecret peeling based on salicylic, lactic and glycolic acids
has a powerful keratolytic, comedogenic and anti-inflammatory effect, stimulates cell renewal, moisturizes the skin.
Serum Retinol in glycospheres - an improved transport form for transdermal delivery of retinol to the deep layers of the skin. This formula provides a prolonged effect and does not increase the sensitivity of the skin to UV radiation.
OxiSecret aloe-based seaweed mask regenerates and soothes the skin. It has antioxidant and immunomodulatory effects. Relieves inflammation and redness of the skin, strengthens the walls of the capillaries. Reduces and soothes inflammation, promotes skin regeneration and wound healing.
The final Hydrogel cream OxiSecret SPF 25. The essential amino acids in the cream protect the skin from free radicals and also provide the Anti age effect. Jojoba extract has powerful anti-inflammatory and healing effects. Contains natural UV filters, protects the skin from UVA-UVB rays. The cream absorbs toxins, heavy metals found in the environment. Reduces the severity of post-acne, evens out skin tone. Non-comedogenic.
We offer 2 options for the procedure:
Procedure with author's deep cleaning and without cleaning.
RECOMMENDATIONS
It is advisable to do 2 sessions in the first week and then carry out 1 session per week. The total duration of the course of treatment will be 4 weeks.
To improve the results of professional treatment it is recommended to continue with OxiSecret home care products.